I for one get so tired of people saying, you are pretty especially for a dark skinned girl! WHAT?! It's 2012 people! Why is America still so color struck? I started to pay closer attention to the ads I saw in magazines and on TV and I quickly noticed that more often than not Black women with light skin were held up as the standard of beauty. Now down't get me wrong, I'm happy when any woman of color is used in a national ad campaign however, it bothers me that to most people dark skin is still something that is thought of as less than! Take a look at these ads: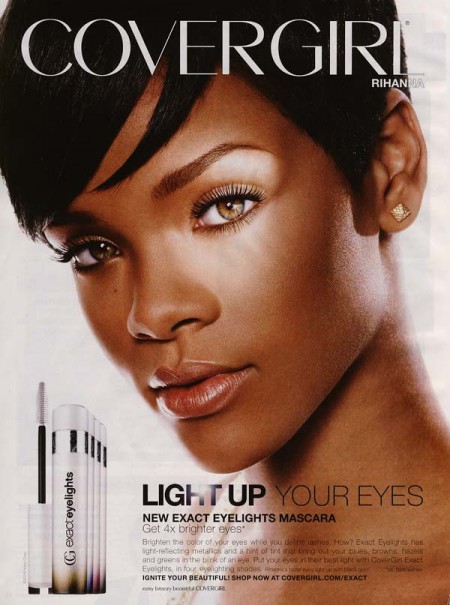 Did you notice anything about the above ads? Well if not I'll point out the obvious, they are all very beautiful light skin Black Women. Now you may be thinking, so what? Well, growing up as a little girl in America you look for images that you can relate to in the media. If you can't find anyone that you identify with you begin to think that maybe there is something wrong with you, particularly when it comes to your skin color. For me I had all types of self esteem issues related to my skin growing up as a child. I HATED the fact that my skin was so dark. Looking at my Mom who is considered by many to be fare for me she represented beauty. Now my mom never really said anything to make me feel insecure about my skin but I always felt like I was ugly because I had a deep brown skin complexion. </p> <p>Being that my background comes from that of a Journalist, I pay extra attention to the hidden messages and themes in ads, movies, and TV when it comes to race. One day I had an assignment where I had to watch TV for an hour and count how many black people I saw in the ads. I don't remember the exact results but what I can say is that on the particular day I gathered my data for the assignment there were very few commercials th

at had women of color light or dark represented in the

commericals.

So when I heard the announcement that Janelle Monáe an up and coming music artist was picked as the new Covergirl I was ecstatic! I was like finally Dark Skin is being celebrated in America! You might think this isn't that deep of an issue but for me and other dark skin women of color it matters to see women like us represented!


It was also a breakthrough when Gabrielle Union was named the new face of Neutrogena a few short years ago.


My whole point in writing this post was to bring attention to the fact that yes, America is making progress in terms of race relations. However, there is still a long way to go! I believe that beauty should be celebrated independent of color! There are so many shades and variations when it comes to various ethnic groups and I feel that it's been time for America to realize that there is more than one standard of beauty that should be represented in mainstream advertisements! So kudos to the companies that are choosing to hire Black Women of any complexion! Black is Beautiful in all its various shades!